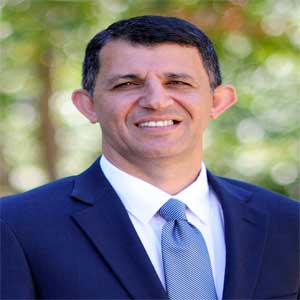 Dr. Akram Alshawabkeh
ISAB Member
PH.D., P.E., FELLOW ASCE
Dr. Alshawabkeh is the George A. Snell Professor of Engineering and Associate Dean for Research for the College of Engineering at Northeastern University.
He is a Civil and Environmental Engineer with expertise in environmental restoration and health impacts, contaminant fate and transport, and geochemistry. He is the Principal Investigator of two federally funded Centers: Puerto Rico Test Site for Exploring Contamination Threats (PROTECT), an NIH Center; and the Center for Research on Early Childhood Exposure and Development in Puerto Rico (CRECE), a joint NIH/EPA Center.
As the Director of PROTECT and CRECE, Dr. Alshawabkeh leads a team that includes epidemiologists, engineers, sociologists, biostatisticians, and toxicologists. Together, this multidisciplinary collaboration studies environmental and water contamination in Puerto Rico and its effects on preterm birth, other adverse pregnancy outcomes, and children's development, to develop prevention and remediation strategies.
Dr. Alshawabkeh is a Fulbright Scholar, a Fellow of the ASCE, a recipient of the NSF CAREER Award, and a recipient of the 2014 ASCE Thomas A. Middlebrooks Award.
Sorry, no posts matched your criteria.