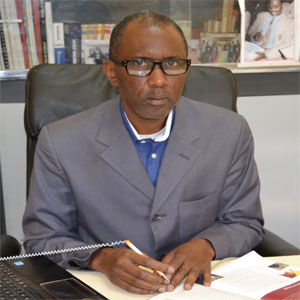 Prof. Modou Fall
Research Collaborator
Modou Fall is Professor at the Department of Chemistry, Faculty of Sciences and Techniques, Cheikh Anta Diop University of Dakar since October 2008. He was graduated as Engineer (1988) at the Algerian Institute of Petroleum and obtained later a Doctorate of Engineering Sciences (1992) in Dakar. He was then appointed Lecturer in Chemistry in 1993 and began his doctoral researches thanks to an "Award of Excellence" of the University Agency of Francophonie in 1995 at the University Paris 7 Denis Diderot. After two other trainings in the same university, he defended his PhD thesis in Physical Sciences at the University of Dakar in January 2001. He held invited lecturer positions in Paris 7 Denis Diderot and Paris-Est-Marne-la-Vallée universities. He had also a postdoctoral position in the Laboratory of Industrial Corrosion Control, Department of Engineering Materials, Trento University (Italy) from June to October 2001. More recently (Octobre 2017), he visited Mahatma Gandhi University (Kottayam, Kerala) as Senior Researcher in the framework of the CV Raman Fellowships for African Researchers programme.
Modou is currently responsible for a Master Program where he delivers courses on Electroanalytical Methods and Fundamental Electrochemistry. His research interests include the synthesis and characterization of conducting polymers, their application in energy storage and conversion and metal trace elements electroanalysis, and is also specialized in corrosion.
He trained many students at Master level and supervised 4 PhD theses in the Electrochemistry and Polymer Science Group which was a TWAS (The Academy of Sciences for the developing Word)-Research-Unit in 2002-2008 and received very recently a new research grant award from TWAS.
Modou is vice president of the African Network of Electroanalytical Chemists (ANEC) which is supported by International Science Programme (Sweden).
He is co-author of about 40 publications and a book "Physical Chemistry General License Courses and Exercises" (in French).
Modou is founding General Secretary of the Senegalese Committee for Chemistry which is representing Senegal in IUPAC. He is currently Associate Member of the Division I (Physical and Biophysical Chemistry)
My Education
University of Dakar
PhD in Physical Sciences
University of Dakar
M.Sc in Engineering Sciences
Algerian Institute of Petroleum
B.Engr
Sorry, no posts matched your criteria.